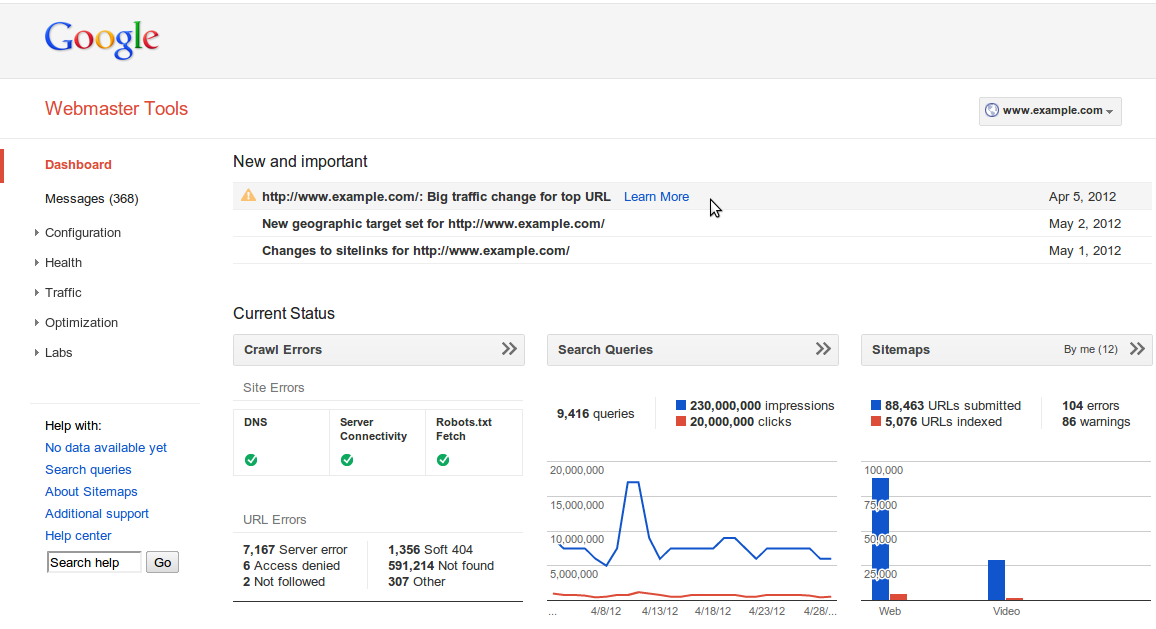 Webmaster Tools
Article on Webmaster Tools written by Catherine Blum.
Technology has allowed us to do things we couldn't imagine 20 or 30 years ago would be possible. For instance, trying to picture one place where we could search closely to everything and get answers within seconds would be inconceivable. Yet, today this is possible and search engines make that happen. There are a few available in the market nowadays however the most used are Google, Yahoo! and Bing. And since everyone is using search engines to look for websites or more information on their interests, companies then realised it would be important, not to say crucial, to have a good ranking for their website. Good rankings can easily translate to an increased click-through rate which means more people accessing your website (and that would be the ultimate goal of the first part of the company strategy to convert visits to sales). That explains why possibly every company in their industry wants to be (and is trying to get) on the top of search results.
If you're aiming to be a rock star of search results for your desired terms in Google then Webmaster Tools can help you get there. For those unfamiliar with it, Webmaster Tools is a free program provided by Google and it's particularly useful for those maintaining and managing a website (known as webmasters) and wishing to turn it into a Google-friendly website. Google makes available a number of videos and articles that explain different aspects of the Webmaster Tools. For instance, you can learn about snippets (a short description of a page content that appears right under the page title on search results) and how they get picked, how to make sure Google crawled your website, the importance of unique content and specific page titles and many other topics. It's also possible to link you Webmaster Tools to your Google Analytics account so you'll have all the data you need in your Analytics page.
After you add your website to the Webmaster Tools you can have access to your visitors queries, check your website's health (against errors, for instance), remove a page from the search results on Google and much more. Finding out which words visitors are using to find you is an essential information if you're working on SEO to optimise your website and its position on search results.
Webmaster Tools is a great tool for those trying to succeed on their Marketing strategy as it can give you insights on how to correctly adjust your website and avoid penalties which can vary from losing positions in the search results to even getting your website removed from Google's search results.
For more information visit: www.google.com/webmasters